April 11th, 2019
8:00 – 10:00am
at the Multnomah Athletic Club

This RMA Women in Banking breakfast networking event and panel discussion was a chance to build connections between the banking community and other local creative financing options. Our panelists included a microlender, an SBA lender, and a non-profit lender. The event was moderated by a community banker.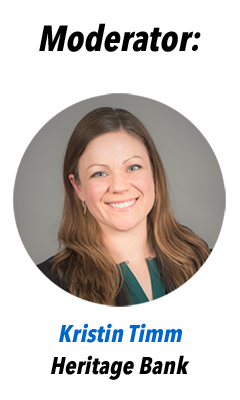 Kristin Timm is a Commercial Banking Officer with Heritage Bank and has been involved with the RMA Portland Metro Chapter since 2003. Kristin has worked at First Independent Bank, US Bank, and Columbia Community Bank (now Premier Community Bank) in commercial lending and portfolio management. Kristin is a native Portlander who graduated from Portland State University with a Bachelor's degree in Business Administration with a concentration in Finance.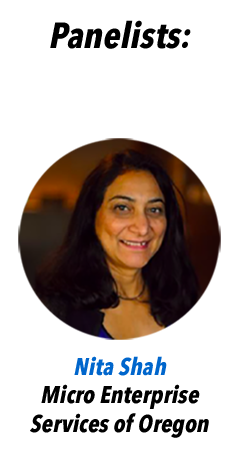 Nita Shah is one of the two founders and current Executive Director of Micro Enterprise Services of Oregon, a microfinancing and coaching organization serving underserved entrepreneurs in Oregon and SW Washington. A background in owning and operating businesses enabled Nita to blend business development, financing and coaching to provide a holistic approach towards self-sufficiency. MESO is a CDFI, an SBA microlender and a Community Advantage lender. Since 2011, MESO has placed $6.5M in loans to credit-challenged entrepreneurs with a default rate of 1%.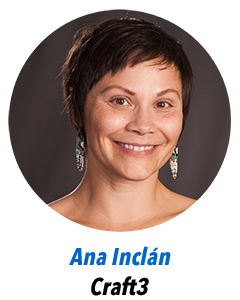 Ana Inclán is a Senior Business Lender at Craft3. She's been lending to businesses and nonprofits for the past 7 years at Craft3 and the 8 years prior at Prosper Portland. Ana grew up on the Oregon Coast and went to school at the University of Oregon (Accounting). She worked as an auditor for PwC but wanted something more community-oriented. That's when the CFO at Prosper Portland suggested she might like business lending. Ana is a (relatively) new mom with a 1-and-a-half-year-old which is her primary passion these days. She also loves gardening and the outdoors.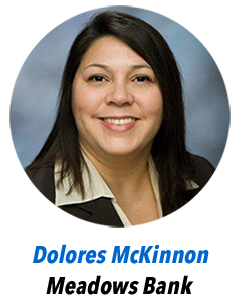 Dolores McKinnon is a Vice President at Meadows Bank, a full-service community bank specializing in Small Business Administration (SBA) and United States Department of Agriculture (USDA) loans. Dolores specializes in working with small business to include commercial and industrial clients in the Greater Oregon and SW Washington area.
Dolores has worked for over 20 years in commercial lending, 15 of those years as an SBA lender. Her high-level approach to strategy and implementation has proven to be successful in aiding clients. Dolores's unique approach has helped many of her clients to achieve their business and financial goals.
Dolores joined Meadows Bank as a veteran SBA lender and serves as a business development officer with a full emphasis on small business lending. Dolores focuses on business lending for clients that meet the SBA eligibility guidelines and offers, among the many SBA programs, the SBA 7(a) and SBA 504 loan programs. In addition, she offers USDA loans, for qualifying candidates.
Dolores lives in Portland and is active in her community. She enjoys volunteering her time, effort and energy to those in less fortunate circumstances. In her free time, she enjoys foreign language, travel and history, city bike rides, cooking baking and spending time with her rescue dog Fritz.