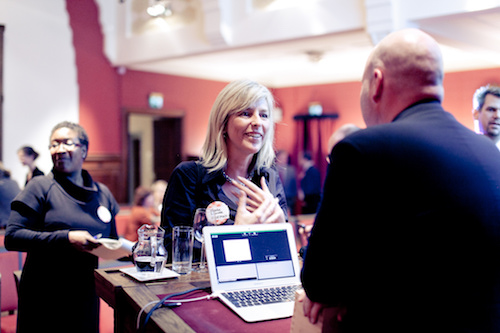 RMA sponsorship and involvement in the local Portland Metro Chapter can bring considerable benefit to your organization. Becoming a sponsor offers your company the opportunity to introduce your colleagues to active Portland area credit professionals in a supportive setting for a much lower cost.
While many are focused on internal growth, RMA provides a way to look out into the current world of finance. Our general meetings and events are centered on luncheon programs with featured speakers, panels, educational forums and social networking events. By supporting RMA, you're staying on the leading edge of knowledge and access to contacts in the financial industry.
Sponsorship offers an incomparable opportunity to meet lenders and credit professionals who are in a position to recommend your firm's services through their own institution or through their clients' institutions. Our membership includes 150 senior banking professionals from regional, community and national banks as well as professionals and other service providers. Our annual attendee list includes over 400 individuals! Sponsoring the RMA Portland Metro Chapter is the perfect way to target market lending professionals that can open doors of opportunity for your company.
Sponsorship of the RMA Portland Metro Chapter provides your company with:
Networking among peers and clients
Year-long marketing plan
Save the cost of face-to-face business calls

  Promoting sound risk management is good business
Sounds great! How do I get involved?
Become a Member! We also encourage the direct sponsorship of a specific event. The RMA Portland Metro Chapter holds regular events throughout the year. You can choose to sponsor:
A general membership luncheon
An education forum
A social event
When you sponsor one of our events, we arrange for:
Company recognition on all flyers for the event
A 'thank you' slide with your company's logo on the main screen as people arrive
Flyers and brochures spread out on tables advertising/promoting the sponsor and its services
Recognition from the podium by the Chapter

By providing financial resources to the Chapter you help support RMA and its mission. Sponsorship helps us increase the quality of programming, participation, and Chapter visibility.
Sponsorship Levels
Event Sponsor – $1,500
There may be up to two other non-competing sponsors at this level for each event at a total of $4,500.
Premier Event Sponsor – $5,000
There may be up to five non-competing sponsors, a single sponsor or various multiples for $5,000 total.
Other sponsorships are available for events in addition to the General Membership Luncheons:
Developing Professionals Events
Women in Banking Events
Academic Programming
Special Events
If you'd like to move forward with sponsorship, please email sponsorship@rmaportlandmetro.org.
Photo by PICNIC Network.