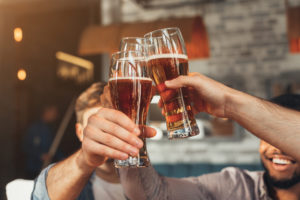 At RMA Portland Metro, our focus on Developing Professionals is an exciting aspect of our chapter. These members and their guests represent individuals most interested in advancing their careers in the finance industry. Dynamic, career-focused professionals participate in the chapter at every career stage imaginable – from emerging leaders just entering the finance industry to highly experienced professionals advancing or even re-entering their careers. Our Developing Professionals represent the entire Portland-Vancouver metro area.
The Portland Chapter of RMA offers year-round opportunities designed especially for these savvy professionals. These happy hour events are held at popular portland venues. Join an evening of top-notch networking, guest speakers, and casual finance education.
Session topics are selected by the Developing Professionals Committee and are designed to appeal to individuals of every career stage in the financial services industry. In general, many events are geared toward individuals early in their banking career but all are welcome and encouraged to attend. Experienced bankers often share their experiences as well as learn from our emerging leaders' fresh perspectives.
Become a committee member:
The committee is seeking new leaders to assist in planning and marketing our annual speaker sessions and successfully promoting the benefits of the Risk Management Association. Committee members are expected to attend four planning meetings per year and play an active role in event programming and communications.

Upcoming Events
Stay tuned for our next event!