November 6th, 2019
11:30am – 1:00pm
at the Multnomah Athletic Club

A conversation addressing a wide range of topics from de novo activity, mergers & acquisitions, the industry's impact on the state, regulations and operating in our current economy.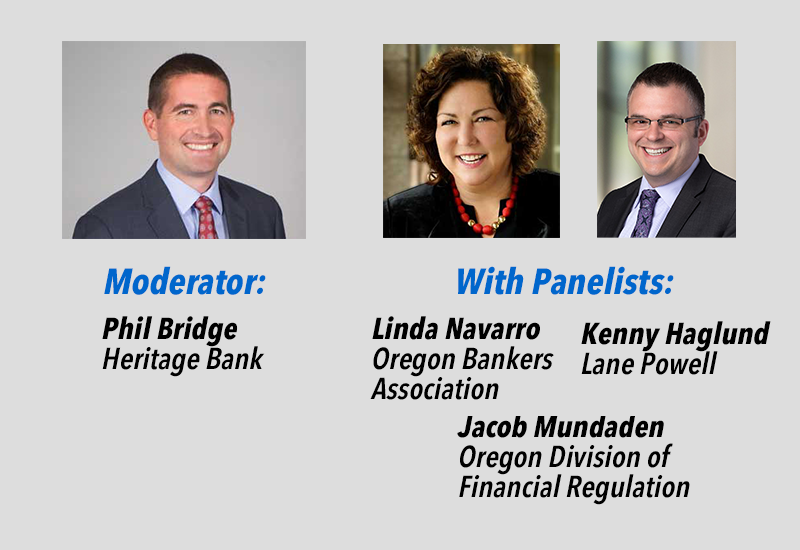 Phil Bridge
Heritage Bank
Senior Credit Officer
Phil Bridge has worked in all aspects of commercial banking from credit analysis, portfolio management, relationship management, leading a commercial lending team and most recently as Senior Credit Officer working with commercial teams in Oregon, SW Washington and Puget Sound. Phil is passionate about education and mentorship in banking, driving his enthusiasm for the RMA. Phil holds a BA and MBA from the University of Portland and is an honors graduate with a published management paper from Pacific Coast Banking School. Outside of banking, Phil enjoys spending time with his wife and two young children.
Linda Navarro
Oregon Bankers Association
President & CEO
Linda Navarro serves as President and Chief Executive Officer of the Oregon Bankers Association (OBA). Located in Salem, OBA is Oregon's only full-service trade association representing state and national banks doing business in the state of Oregon. Linda has worked for the OBA for 23 years and was appointed to the position of president and CEO in 2006. Linda also serves as President and CEO of Community Banks of Oregon, a sister organization of the OBA, and she is the CEO of Synergy by Association, a wholly-owned subsidiary of the OBA that does business in 38 states in partnership with other trade associations. In addition, Linda serves as Secretary-Treasurer and CEO of the Oregon Bankers Association Education Foundation that she helped establish in 2013.
Beyond Oregon's borders, Linda is a past chair and current member of the National Alliance of Bankers Associations. She currently serves on the American Bankers Association (ABA) Community Bankers Council Administrative Committee and the ABA Credit Union Administrative Committee. She also serves on the Independent Community Bankers of America (ICBA) Subcommittee on Consumer Financial Services. In the past, she served on the ABA Board of Directors, the ABA Community Foundation Board, the ABA BankPAC Committee, and the ABA Committee on Housing and Community Affairs.
Linda is a former chair and current member of the Board of Trustees of the Northwest Financial Associations' Employee Benefit Trust and serves on the Oregon Small Business Development Center Network's State Advisory Council and the Willamette University Atkinson School of Management Advisory Board. She also commits time and expertise to programs combatting financial abuse of older Americans. Throughout her career, Linda has served on various other non-profit boards and committees within the communities where she lives and works.
A native Oregonian, Linda graduated from Willamette University in Salem, Oregon with a B.S. in Business Economics and a minor in Art. She grew up around Oregon politics with a father that served as Oregon's House Minority Leader in the 1970s. Linda is a graduate of the Northwest Bank Directors College and, in 2012, received an Orchid Award from the Portland Business Journal, recognizing "Women of Influence" in Oregon. In 2015, she received the V.A. McNeil Executive Leadership Award from the Oregon Society of Association Management.
Kenny Haglund
Lane Powell
Corporate, Securities and M&A Team Co-Chair
Kenny Haglund is a Shareholder at Lane Powell where he serves as Co-Chair of the Corporate, Securities and M&A Team. Kenny advises public and private business corporations and financial institutions on mergers and acquisitions, securities and regulatory compliance, corporate governance, and corporate and real estate finance. He regularly counsels publicly-traded companies in ongoing securities compliance, including securities obligations, periodic reporting and EDGAR filing requirements. Kenny's work has received honors from Chambers® USA: America's Leading Lawyers for Business, The Best Lawyers in America© and Thomson Reuters, and he received the prestigious 40 Under 40 award from Portland Business Journal in 2016.