March 11th, 2019
11:30am – 1:30pm
at the Multnomah Athletic Club
At RMA Portland's March Membership Luncheon, a panel of three local Bank CEOs gave insight into what it means to be a leader in today's banking industry.

Mr. Cleveland serves as managing partner for Access Business Finance, L.L.C., a company that he co-founded in 1996 that is principally engaged in providing asset-based working capital financing to small and medium-sized businesses. He has over 48 years of financial institution experience including the founding of Enterprise Bank, where he served as Chairman of the Board, CEO and President until the bank's sale to Washington Mutual on August 31, 1995. Prior to Mr. Cleveland's founding of Enterprise Bank, he served as President Chief Executive Officer and Director of Gibraltar Savings of Washington, F.A. from 1984 through January 1988, and held various positions with Bank of America from 1971 to 1984 including Vice President and Manager of the International Banking Office, Los Angeles, San Francisco and San Diego.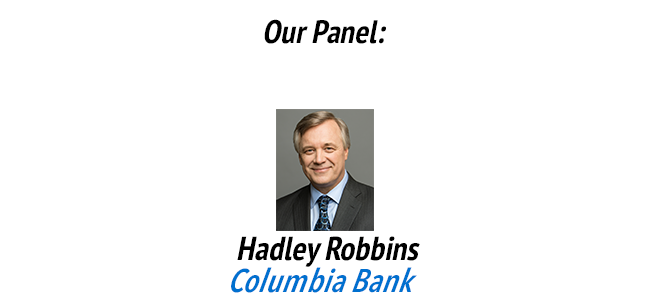 Mr. Hadley S. Robbins serves as the President & Chief Executive Officer for Columbia Bank and Columbia Banking System since his appointment in July 2017. Previously he served as the Executive Vice President and Chief Operating Officer with responsibility for Columbia's customer-facing business lines, including Commercial Banking, Retail Banking and Wealth Management.
Mr. Robbins joined Columbia in April 2013 as Senior Vice President and Oregon Group Manager following the merger of West Coast Bancorp, where he served as Executive Vice President and Chief Credit Officer since 2007. His experience spans over 35 years and includes senior-level positions with Wells Fargo, Pacific Northwest Bank, Bank of the Northwest and First Interstate Bank.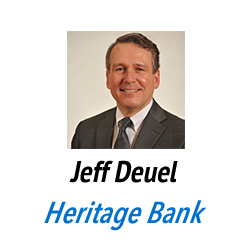 Jeff joined Heritage in February 2010 as Executive Vice President of Corporate Strategies. He was promoted to Chief Operating Officer in November 2010 and then President and Chief Operating Officer in 2012. Today, he serves as President and Chief Executive Officer of Heritage Bank and President of Heritage Financial Corporation. Jeff contributes more than 35 years of commercial banking experience with companies like JPMorgan Chase/Wamu, CoreStates Bank and First Pennsylvania Bank. He just completed his term as Board Chair for the Washington Bankers Association, is an avid cyclist and a devoted family guy.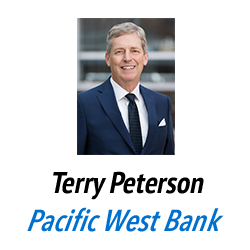 Terry is a long time RMA supporter, member, and past president of the Seattle RMA Chapter. His banking career spans over thirty years working with both Community Banks and larger Regional Banks. Over his career, he served as President or CEO of four different Banks located in Washington, Oregon and California.
Most recently, Terry spent five years in the San Francisco Bay area as President and CEO of California Bank of Commerce and California Bancorp. He joined Pacific West Bank as CEO in November 2018.