October 12th, 2017
3:00 – 5:00pm
at Fox Tower: West Side Conference Room

The RMA Skillbuilders Series presents Building Confidence with Title Insurance which will help attendees be better educated when it comes to title insurance and the importance of having an understanding of how title insurance is directly tied to the Bank's perfection of collateral when dealing with real estate secured loans.
---
This class will be taught by Carlene Lodeski and Bob Brandon from Lawyer's Title of Oregon. Both Carlene and Bob have years of experience in the title industry and regularly teach classes on title insurance education.
[checklist type="dotted"]
Class focuses on the specifics of title insurance and the title industry as it relates to banking.
Various levels of title insurance will be covered; including American Land Title Association (ALTA) Standard and Extended policies.
Students will review sample preliminary title reports to gain familiarity with the report, learn about escrow and the recording process including a thorough understanding of what is necessary for a real estate transaction.
[/checklist]
---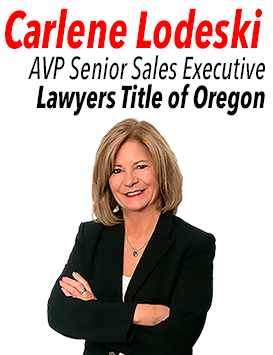 Carlene J. Lodeski is a Senior Sales Executive out of the Downtown office,working with the Title Specialist Group. She has worked in real estate related industries since 1982, beginning her career as Regional Secretary for Century 21 Corporate. This led to an opportunity to work for Transamerica Title as a customer service representative. In 1990, she was promoted to the position of sales executive and account manager for the Title Only Unit. This department transformed into the Title Specialist Group, where Carlene continues to work with her team today supporting financial institutions and attorneys throughout the state.
Through the years, she has been involved in designing and presenting title and escrow products, services, and training to clients including Wells Fargo Bank, Bank of America, Bank of the West, Portland Teachers Credit Union and numerous attorney firms throughout Portland.
---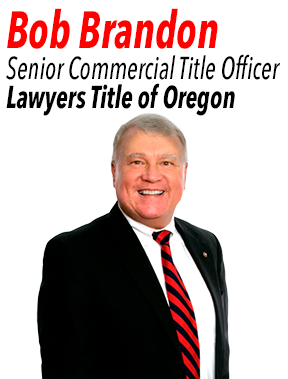 As Senior Commercial Title Officer at Lawyers Title, Bob Brandon uses his 37 years of experience to almost magically solve title problems and facilitate the closing of complex transactions.
Bob has been recognized as one of the friendliest and most helpful title professionals. He graduated from the University of Oregon and remains a passionate Duck Fan to this day.
A graduate of Lewis & Clark Law School, Bob has been a member of the Oregon State Bar since 1975 and enjoys working with other real estate lawyers from all over the country. When he's not "savings his customers' bacon", you may find him at his smoker creating mouth-watering Southern barbecued pork butt or beef brisket.