May 22nd, 2019
11:30am – 1:00pm
at the Multnomah Athletic Club

Please join us on May 22nd for a lively panel discussion featuring local commercial real estate experts and catch up on the latest changes involving the Portland commercial real estate market.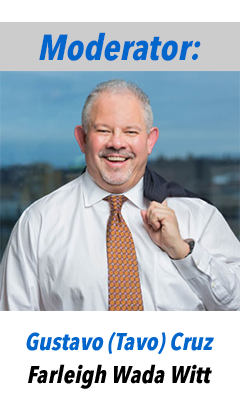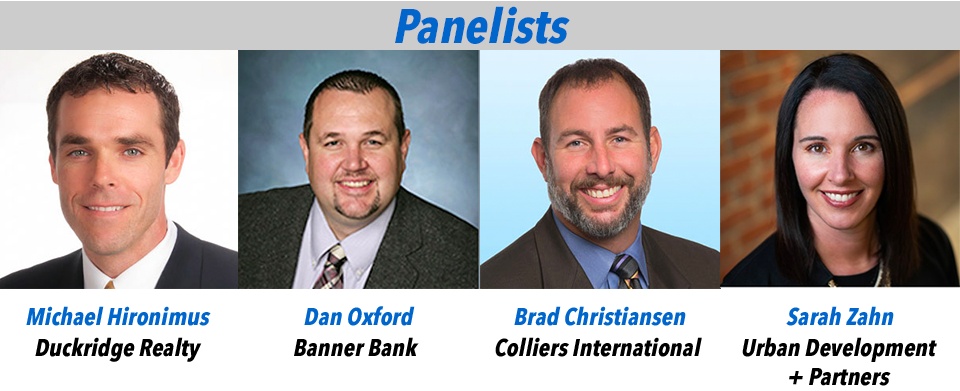 ---
Gustavo (Tavo) Cruz
Farleigh Wada Witt
Attorney
From the business of banking to the law of banking, Tavo knows the finance industry from the inside out and has a depth of understanding of the interplay of legal, business, and regulatory issues facing financial institutions.
He has a rare trifecta of financial services experience: worked as a commercial lender and credit approval officer, served as in-house counsel for US Bank in the Special Assets Group, and has many years of experience as outside counsel for financial service providers of all sizes.
With such versatile experience, Tavo is able to identify his clients' pain points, walk in their shoes, and effectively protect their interests. He also handles a broad range of business transactions, including mergers and acquisitions, real estate deals, business agreements, and public and private securities offerings.
Tavo is a Portland native and is active in the community. He serves on several non-profit boards and is the incoming Board Chair of Prosper Portland (formerly known as the Portland Development Commission), the urban renewal agency for the City of Portland. He is currently a board member and/or officer of Portland Center Stage, the Hispanic Metropolitan Chamber of Commerce, and the NW District Association, the neighborhood association of NW Portland. He has served as the Chair of both the Business Law and Securities Law sections of the Oregon State Bar, in addition to numerous other boards and committees.
Michael Hironimus
Duckridge Realty
Principal and Certified Investment Advisor
Michael Hironimus, CCIM is a Certified Investment Advisor and Principal with Duckridge Realty, LLC based in West Linn, OR. Duckridge Realty specializes in strategic portfolio analysis and commercial investments on the West Coast, including Oregon, California and Washington. Michael founded the company in 2017 as an opportunity to fill a void for professional portfolio advisory services in commercial real estate. Since most brokerages focus merely on single transactions, Duckridge Realty decided to focus on entire portfolios to enhance the needs of its clients through a wide array of analyses and therefore align both investor and broker goals. This unique approach means that our client-partners trust us with building their wealth through goal-oriented strategies, integrity and accountability.
During the formation of the brokerage business, Michael decided to utilize his talents to create commercial real estate syndications that embodied some of the same characteristics as the brokerage, meaning that the syndications must be based upon the same core values of honesty, integrity and accountability. These core values direct our investment strategies and our stewardship of our investor/partner's equity.
Michael is active in many organizations including CCIM Institute, Urban Land Institute, Little League, the Boy Scouts of America, and various Chambers of Commerce. He currently resides in West Linn, Oregon with his wife, Erica, and two sons, Nathan and Dylan.
Daniel Oxford
Banner Bank
SVP and Chief Appraiser
Daniel Oxford is a Senior Vice President and Chief Appraiser for Banner Bank, a $10.4 billion financial institution serving the West Coast. At Banner Bank, his responsibilities include managing the bank's appraisal department which is tasked with ordering and reviewing appraisals to ensure that acceptable appraisal methodologies and techniques are utilized and confirming that the real estate valuation process meets all standards as they relate to FIRREA, FDIC, USPAP and bank loan policy. He also provides guidance to bank personnel regarding trends and influences on the various real estate markets within the bank's footprint. He has been with Banner Bank since 2010. Prior to working at Banner Bank, he was a fee appraiser for 10 years working for Mountains State Appraisal in Southern Idaho. Mr. Oxford holds a Master's Degree in Business Administration from the University of Gonzaga and a Bachelors of Arts Degree in Business Administration and Management from Northwest University. He also holds both of the prestigious MAI and AI-GRS designations from the Appraisal Institute. He is presently a Certified General Appraiser in good standing in the states of Washington, Idaho, Utah, California and Oregon.
Brad Christiansen
Colliers International
SVP Occupier Services
Brad focuses his efforts upon professional services, creative space/ technology and medical groups specializing in creating efficient space solutions using proven metrics for a wide variety of clients. Often assisting as a project manager, Brad has been involved in redevelopment projects in the Northwest and Southeast urban areas of Portland, along with build to suit, medical, manufacturing and office occupancies.
Brad joined Colliers International in July of 2001. Prior to working with Colliers International, Brad was the Operations Director for a local timber management organization, GreenWood Resources.
Brad received a Bachelor of Science degree in Finance and Economics from Pacific Lutheran University in Tacoma, Washington.
Sarah Zahn
Urban Development + Partners
Director of Development
A 2019 addition to the UDP team, Sarah is an experienced real estate development professional with a passion for projects that strengthen communities and improve the urban environment in which we live. Over her 15+ year career in real estate, Sarah's project track record includes mixed-use infill, multifamily, office, higher education, civic uses and affordable housing. At UDP, Sarah focuses on new business and acquisition, as well as management of predevelopment of activities and finance.
Prior to joining UDP Sarah spent a decade working in real estate development in Portland, first for a nonprofit affordable housing developer where she oversaw development and management of a 700+ unit portfolio of affordable family housing, and then at Gerding Edlen where spent 5 years working on the firm's public-private portfolio of projects. Most recently, she worked at ZRZ Realty, which was focused on redeveloping a 33-acre former industrial site on the Willamette River into a vibrant, mixed-use community. Sarah started her career in real estate development in the San Francisco Bay Area.
Sarah served on the Portland Housing Advisory Commission from 2011-2018 and currently is co-chair of the Women's Leadership Institute, an initiative of the Urban Land Institute, of which is also a member. She also sits on the board of the Portland Streetcar and Oregon Smart Growth. In her spare time, Sarah enjoys practicing yoga, skiing with her son, playing with her labradoodle and traveling with her family.