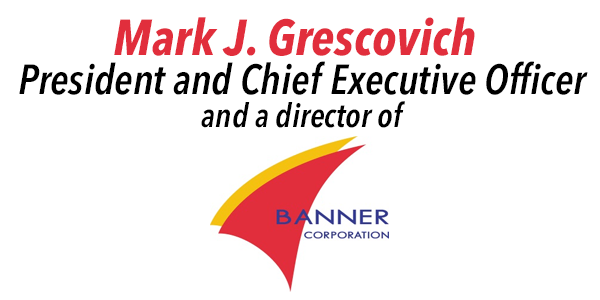 Mark J. Grescovich is President and Chief Executive Officer, and a director, of Banner Corporation and Banner Bank. Mr. Grescovich joined Banner in April 2010 as President and became Chief Executive Officer in August 2010 following an extensive banking career specializing in finance, credit administration, and risk management. Under his leadership, Banner has executed an extremely successful turnaround plan involving credit stabilization, improved risk management, a secondary public offering and other capital raising activities, and a return to profitability based on net interest margin improvements. The Company has significantly changed its balance sheet composition to improve its capital position and credit quality, lower funding costs, and increase core deposits through market share gains. At the same time, Banner has notably enhanced core revenue and earnings power while making meaningful investments in the franchise and its retail and business banking teams.
Banner's Super Community Banking business model has resulted in substantial market share gains through new client and household acquisition, broadened and improved product offerings to serve its middle market, small business and consumer client base, expanded client-centric decision-making practices and responsiveness through relationship banking, and the alignment of multiple delivery channels to maximize strategic effectiveness while also promoting good corporate citizenship through targeted community investment. Banner Bank clients ranked it highest in overall satisfaction for all banks in the Pacific Northwest in both the J. D. Power and Associates' 2012 and 2013 Retail Banking Satisfaction Study℠.
Prior to joining the Bank, Mr. Grescovich was the Executive Vice President and Chief Corporate Banking Officer for Akron, Ohio-based FirstMerit Corporation, and FirstMerit Bank N.A., a commercial bank with $14.5 billion in assets and over 200 branch offices in three states. He assumed the role and responsibility for FirstMerit's commercial and regional line of business in 2007, having served since 1994 in various commercial and corporate banking positions, including that of Chief Credit Officer. He has a Bachelor of Business Administration degree in finance from Miami University and a Master of Business Administration degree, also in finance, from The University of Akron.