March 13th, 2019
2 pm – 4 pm
at the Umpqua Bank Plaza

In 2018, RMA Portland offered its Skill Builders "Collateral Managed – An Overview of A/R and inventory lending", with Rich Denman of Cascade Credit Services presenting. It "sold out". "ABL-II – the Sequel" took place on March 13, 2019,  – an exciting dive into the deeper waters of asset-based lending focusing on receivables and inventory, in some more detail compared to the first Skill Builders. Good for Analysts who review and service borrowing base clients, Relationship Managers, and Credit Admin or Approval Officers.
The attendees learned:
1. What does the borrowing base reporting package include?
Perils of monthly reporting
Rolling the balances forward
Different receivable aging types
What do I do with this inventory report
Payables and accrued liabilities
Customer deposits or deferred revenue schedules
Customer name and address list
Trial balance & financial statements
The "trend card" AKA excel "recap"
2. Collateral Issues – "Ineligibles"
Dilution of A/R
Foreign vs. domestic transactions – transaction review
Credit insurance
Inventory – where, what, why, how much?
Inventory – who controls?
You pick them – top 5 ineligible classes explained (A/R and inventory)
3. Ever read the Loan Agreement? Overview of key provisions
You should read the boilerplate! Know lender's rights
Ineligible definitions
"Past Due" – what goes here?
Reporting requirements per agreement – use or lose
4. Documentation issues & Legal Threats
If you are not perfected in collateral, what do you have?
UCC-lien search
Tax liens
Purchase-money liens
Statutory liens – federal or state

This Skill Builders Series workshop was taught by Rich Denman from Cascade Credit Services, Inc. Cascade provides collateral examination services covering receivable and inventory loans made across the United States. Since 1995, Cascade has developed expertise that reflects the specific needs of lenders by serving Cascade's lender clients in a variety of industries. A collateral examination (or field examination) is an analysis and written evaluation of a borrower's collateral, focused primarily on accounts receivable and inventory.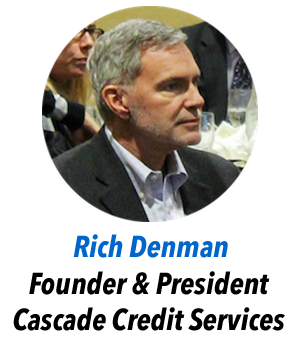 Rich Denman founded Cascade Credit Services in 1995. Prior to founding Cascade, Rich spent over twenty years at US Bank, principally in the Portland, OR commercial banking group. From 1984 to 1994, Rich managed the Accounts Receivable Department, overseeing the portfolio underwriting and monitoring function. Responsible for commitments in excess of $1B, Rich also helped to structure the bank's first trade receivables securitization. Rich has a BA in Economics from Oregon State University and is a graduate of Pacific Coast Banking School. Beyond the excitement of collateral exams, Rich enjoys being in the mountains and trails, does hot yoga, and enjoys reading historical novels and the Game of Thrones series.