February 1st, 2017
4:00 – 6:00pm
at the Lucky Lab Brew Pub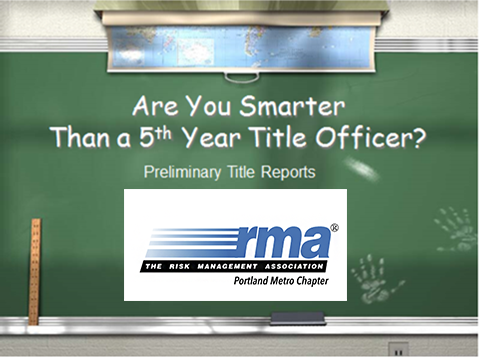 Yvonne Inserra and Dave Wilson of First American Title have a fun and informative one-hour presentation on deciphering a title report in fun game-show format… with prizes!* Take on our Title and Escrow team and see if you can out talk title exceptions!

Yvonne Inserra is a National Account Manager at First American Title and has more than 20 years experience in the title and escrow industry as an escrow officer. She specializes in title insurance and settlement services, helping her clients produce a timeline, come up with ideas on how to close a complicated deal, or conduct preliminary research on a specific property. Yvonne can map out a strategy long before you open escrow or order a title report.
Dave Wilson is a Commercial Account Manager at First American Title and has over 17 years experience in the title insurance industry, specializing in commercial title and escrow sales on a national level. He works directly with developers, private investors, transaction attorneys, lenders, and brokers, assisting in providing detailed property research to facilitate a transaction in its infancy, as well as connecting clients with the right title and escrow teams that can get the deal closed.
*All prizes awarded comply with the value limits established by Oregon Administrative Rule 836-080-0320.