Join us for happy hour and an engaging career panel discussion with local bankers. This panel of dynamic banking professionals will share their career journeys, share lessons they have learned along the way and shed light on how to prepare yourself for your next steps.

The event will be held at a new location – Rogue Eastside in SE Portland – Come help us celebrate our new meeting space and kick off the new year!
---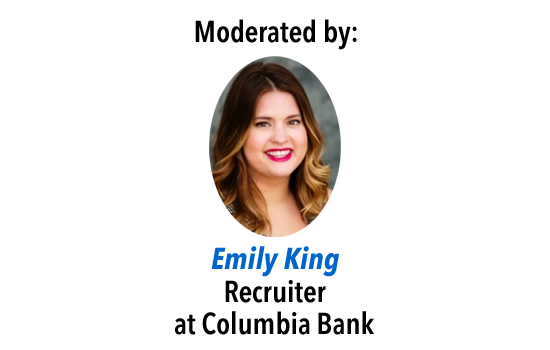 Emily King is a recruiter for Columbia Bank. She graduated from the University of Oregon in 2013 and began recruiting for a healthcare entity. In 2017 she joined Columbia Bank to provide support to the Oregon, SW Washington and Southern Idaho retail branches. She also recruits for departments like IT, Information Security, Corporate Finance, Corporate Accounting, and the Columbia Bank Trust Company.
---

Antonio Carrillo is Vice President / Credit Administrator for the Oregon and Washington market divisions of Northwest Bank. He is responsible for credit approval and credit review. He is tasked with creating efficiencies and streamlining processes in the Credit Administration department, as well as the creation of credit policy and monthly reporting to the Board of Directors. Prior to Northwest Bank, Antonio served as an Assistant Vice President at Umpqua Bank and brings over 18 years of experience in Lending and Risk Management. 

Marc Satterlee is Vice President / Treasury Management Officer. He is tasked with building a strong deposit and treasury culture at Northwest Bank. Prior to Northwest Bank, he was with Umpqua Bank as VP / Treasury Management Service Manager. He is a graduate of the University of Oregon and holds his Bachelor of Science in Business Management with an emphasis in Sports Marketing and a Minor in Economics.  Marc is a 2015 graduate of Pacific Coast Banking School. Marc holds his Certified Treasury Professional (CTP) Designation and is an active member of AFP (Assoc. for Financial Professionals). Marc has over 18 years of experience in the financial services industry. 

Chris Kane holds a degree in finance from Bentley University in Waltham, MA. After beginning his professional career with Merrill Lynch and Fidelity Investments in Boston, Chris relocated to Portland, OR, with his wife in August 2002. Shortly thereafter, Chris joined Columbia Bank and held the title of Senior Vice President, a team leader in the Private and Professional Banking Group. Chris oversaw the bank's lending team in the Greater Portland market, including the market's C&I dental healthcare lending programs. His extensive background in dental lending includes financing buy-ins, expansions and remodels. Today, Chris is a Senior Vice President on the Commercial Banking Team at Heritage Bank. He is married with two children and enjoys playing golf.


Trang is Senior Vice President and Director of Regulatory Issue and Sustainability in the Risk Management & Compliance Department at U.S. Bank. She has been with U.S. Bank since 1988, where she started out as an administrative assistant and has since worked through various other positions, gaining valuable experience. She has held multiple roles within Retail Banking, Wholesale Banking, Oregon Commercial Banking, Small Business, Credit Risk Assessment and Third Party Risk Assessment. In her current role, she is starting a new initiative and is developing validation practices and processes to ensure regulatory issues, that have been remediated, continue to remain closed and sustainable. This new role has her working with many regulatory agencies and impacts a wide range of industries and current banking practices. Trang enjoys volunteering at the Providence Willamette Falls Hospital Foundation and is one of the original employees who helped build the Women's initiative called LIFT (Leadership Initiative for Female Talents), which focuses on assisting women in developing their skills within Risk Management & Compliance to prepare them for new career opportunities.
---